MAKING CHANGES TO AN ORDER
Unfortunately, we are not able to change out the items in an order once the order has been placed. We can however cancel an order at any point before it ships out. You can then place a new order for the correct product. To cancel an item you can log in to your purchase history and click the cancel button, or contact our customer service team with your request.
CANCELLING AN ORDER
We recommend you cancel your order online (instructions below). You may also cancel your order by contacting customer service, but due to time differences, we cannot guarantee customer service will receive your request before the order ships.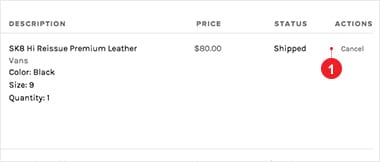 TO CANCEL AN ORDER ONLINE:

Click on 'MY REVOLVE'

Click on 'My Orders'

Select your order number

Find your item, and click on 'Cancel' under the Actions column.